Hemingway's Lagoon
creato da Ventrix
ultima modifica

20/06/2008 15:10
We discover Jesolo and Caorle through the eyes of the great American writer Ernest Hemingway.
We follow in the footsteps of American author
Ernest Hemingway
as we discover the towns in and around Lido di Jesolo.
Our starting point is
Lido di Jesolo
where, if the weather permitting, we can get to work on our suntans on the sandy stretch of beach. It may not be as trendy as
Riccione
, but there's still plenty happening and, being so close to Venice, is the perfect base for visiting the world's most romantic city.
Children and grown-ups alike will flock to Lido di Jesolo from June 11
th
to 17
th
when "
Castelli di mare
", the international sand sculpting competition, is due to take place on the beach beside Piazza Brescia.
Lido di Jesolo and the surrounding area was immortalised by
Hemingway
in some of his most important works including "
A Farewell to Arms
" which describes the retreat of the Italian troops after the disastrous defeat at
Caporetto (Kobarid)
. The nineteen-year-old Hemingway was a volunteer ambulance driver in the Red Cross and experienced many bloody battles first-hand.
Hemingway later transferred to the Italian infantry and was seriously wounded in mortar fire at
Fossalta di Piave
, north-west of Jesolo on the banks of the Piave river., an injury which earned him the Italian Silver Medal of Valour.
The countryside is dotted with vineyards which provide some of Italy's most popular
wines
. Take time to sip a glass of wine (an
ombra
) but go easy as the local tipples are deceptively strong. If you want to spend some more time in the area you may like to try out this
excursion
which will take you across the rich farmland of this fertile plain.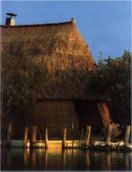 We now head for
Caorle
and its beautiful lagoon. The
Laguna di Caorle
is a natural wetland paradise, a haven from the hustle-bustle of Veneto's busy towns and cities. Time seems to stand still in this area where silence reigns supreme and you can still see the straw houses (
casoni
) where the fishermen stayed, sometimes for months on end, during fishing season
The tradition of fishing has been passed down from generation to generation by the people of Caorle thereby allowing the area to conserve much of its natural charm and beauty.
Ten kilometres north of Caorle is
San Gaetano di Caorle
, a small village built by the Franchetti family, close friends of Hemingway. It was here that the American author found inspiration for books such as "Across the River and into the Trees", with its evocative descriptions of the novelist's many shooting parties on the Franchetti estate..