Dulce et decorum est: A visit to the Alpine trenches
creato da Ventrix
ultima modifica

20/06/2008 15:10
Walking in the Alps today, it's hard to imagine that these beautiful mountains were once the backdrop to some of the bloodiest battles of World War One. Lest we forget . . .
On the Internet there are lots of sites dedicated to the
Great War
(1914-18), so I head off on some virtual trekking, my walking boots and backpack pegged up behind the door and my
"Alpino"
hat taking pride of place on top of the computer. Surrounded by piles of books I start my journey. Feeling my way with my mouse I go to places, some familiar some yet to be seen. Why don't you join me?
Trekking
I decide to start with a refreshing walk in the beautiful
Adamello-Brenta
Park and pay the nominal fee to get in, but believe me, it's well worth it. Leaving
Carisolo
I drive towards Val Genova with its magnificent waterfalls and then up the only road to
Rifugio Bedole
. I park the car at the refuge and walk the three hours towards
Rifugio Mandron
. On my way to the refuge, which is on the edge of Italy's largest glacier, I spot trenches, vantage points and even a small wartime graveyard all dating back to WW1.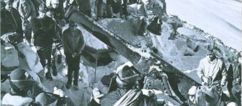 I then decide to follow the glacier up to the next refuge,
Ai Caduti dell'Adamello/Lobbia alta
. If you have no glacier or mountaineering experience I suggest you contact an
Alpine guide
, and don't forget to phone ahead to the refuge to make sure it's open (+39-0465-502615).
The views of Adamello and Presanella are breathtaking. Once at the refuge another hour takes me to the
Adamello cannon
, known locally as
The Hippopotamus
due to its bizarre shape. These mountains were the scene of many a battle during the Great War. If it's cool during summer, spare a thought for the conditions of the Italian and Austrian troops stuck here in winter without adequate food or clothing.

The heights are making me a bit dizzy so I take a well-earned (I think so anyway!) rest in the little town of
Spiazzo
visiting its somewhat untidy but nonetheless interesting war museum. The glacier is gradually melting and is leaving important new finds in its wake - which then make it into Spiazzo's museum.
My excursion comes to a close in front of a steaming plate of home-made polenta in
La Trisa
restaurant, in Giustina, a small town between Pinzolo and Carisolo.
Books

"
Un anno sull'altipiano
" (not translated) by
Emilio Lussu
(Einaudi), inspired Francesco's Rosi's moving film
Just Another War
. Lussu also wrote
The Sardinian Brigade.
"
A Farewell To Arms
" by Ernest Hemingway, is based on Hemingway's experiences as an ambulance driver during WW1.