Sweet onions and hot peppers
Throughout its history Calabria has been crossed by Greeks, Arabs, Normans, Swabians, Bourbons and Aragonese. They have all left their mark on its cuisine which successfully mixes simple ingredients with sophisticated recipes. Read on for a taste of Calabria . .
FOOD TRAILS AND FESTIVAL
S

Chilli Pepper Festival: September.
Diamante (Cosenza).
No-one uses chilli pepper better than the Calabrians so come along and fire up your taste-buds at this festival organised by the Accademia Italiana del Peperoncino (Italian Chilli Pepper Academy).

Fig Festival: September. Luzzi (Cosenza). Try the endless variations of this wonderful fruit: baked, dried, honeyed, chocolate covered, stuffed or served with cured ham from Sila - simply delicious.



KNOW YOUR ONIONS
Easy on the digestive system, delicious in salads and equally good when cooked, Tropea onions have a distinctively sweet flavour thanks to the high quantity of sugar they contain. They are grown all over Capo Vaticano and are appreciated throughout Italy as well as abroad.


Tropea Onion Soup
Ingredients
300 g Tropea onions (thinly sliced)
30 g sardines
400 ml of vegetable or fish stock
6 slices of home-made bread
100 g hard cheese
marjoram
garlic
oil
salt
pepper

Gently cook the onions with the oil, sardines, garlic and marjoram until softened. Add the broth and bring to the boil. Put the bread in a tureen and add the soup when cooked. Sprinkle with cheese and drizzle over some oil. Adjust seasoning if necessary and garnish with a sprig of fresh marjoram.

RED HOT CHILLI PEPPERS
Chilli peppers are widely used in Calabrian cooking, flavouring dishes from cured meats to cheeses and tomato-based sauces as well as being savoured on their own, preserved in oil - chilli oil is known as "holy oil". The following recipe, originally from Calabria, has become a classic of Italian cuisine.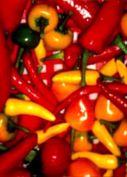 Spaghetti with garlic, oil and chilli pepper
Ingredients
400 g spaghetti
half a glass of olive oil
2 cloves of garlic
2 dried red chilli peppers
parsley
grated parmesan or pecorino cheese

Cook the spaghetti in salted boiling water. Five minutes before it is ready heat the garlic and chilli peppers in the oil. Drain the pasta, and put in a serving dish. Sprinkle with chopped parsley and grated cheese. Remove garlic from the oil and pour over the spaghetti. Stir and serve piping hot.

Cook like a Calabrian
Learn to cook like a Calabrian with the courses organised by I Brasiliani, a holiday farm in Torre di Ruggiero (CS), Tenuta dei Martelli di San Basile. Many of the ingredients are produced on the farm itself.