Winding our way through Genoa
In the words of one of Genoa's most famous singer-songwriters, Ivano Fossati: "To see Genoa, you have to see her from the sea."
Blame its narrow alleys, blame the tall buildings, blame what you want - the truth lies in Fossati's words, the only way to get a complete view of Genoa is to take to sea. We decided to ignore the illustrious singer's advice and take you on a trip through Genoa's backstreets and alleys - we may not get an overall view of the city but we will capture some of its unique flavour.
Take a walk through Genoa's winding backstreets and alleys –caruggi in the local dialect - and you'll be in for a pleasant surprise. Each corner you turn opens up into something new, something different - stone steps lead to mysterious houses and new streets to discover, churches materialise before your eyes and squares, heavy with geraniums, shed light into the dark lanes.
Genoa is affectionately known as la Superba, (the Haughty One). Perched on a series of hills, the Haughty One has been humbled by a myriad of open wounds - building sites which shame the city's most prominent squares and monuments. However there is a still a part of Genoa untouched by the speculators - the backstreets and lanes, overrun by the rats and mice that seem to populate the city in the early hours of the morning.
Let's explore this maze of streets, turning off Via XX Settembre (one of Genoa's main shopping streets) into Piazza De Ferrari. Then it's into Vico Falamonica and off down hill - mind the cobbles if you're wearing heels. The stark neon light at the end of the street marks one of the area's best Arab restaurants, Nabil, a sure sign we've crossed over into a different world. Corner shops alternate with ethnic bazaars. The flavours and smells of exotic lands mix with traditional Ligurian fare as we pass from focaccia al formaggio to farinata di Tristano e Isotta. We've reached Vico del Fieno, the start of the old centre proper - and one of Europe's largest old quarters - which nowadays is mostly home to immigrants - faces from faraway lands that have brought their music and memories to Genoa.

Our next stop is Piazza Soziglia which lead us to Vico della Neve, home to one of Genoa's most famous music bars - that's it with the blue neon light - where you'll be likely to rub shoulders with some of Genoa's most famous singer/songwriters. We're now in Piazza Campetto, originally a cultivated field - hence the name, then one-time commercial hub of the city thanks to its goldsmiths (fraveghi in the local dialect), smiths and craftsmen who supplied the thriving port. Outside the square's cafés business men sit side by side with punks and old-style Genoa walks alongside its new immigrant face.
Want to splurge some money on Italian sophistication and style? Turn right at the far side of the square into Via di Scurreria, which was built on the remains of an ancient Roman burial site, and you'll be spoilt for choice. This is the essence of Genoa - a city where designer shops shine in dirty streets, chaos turns to silence, shyness and self restraint is thrown into the Mediterranean as it welcomes travellers into its port.

It's time to move on to the elegant
Galleria Imperiale,
where antique-collectors will enjoy a browse, and - who knows - may even pick up a bargain. The atmosphere changes once more as we head for the market in
Piazza Banchi
-Sestiere Molo
, with its flower sellers, fruit stalls, pictures and second-hand books. The church of
San Pietro in Banchi
seems suspended in the middle of the square, surrounded by banks and credit unions …
The smell of sea air wafts towards us and every so often we catch glimpses of the port and the absurd bypass that divides this city in two. We're only a stone's throw from the docks and the brightly coloured porticoes where fishmongers sell the day's catch and you can feast on calamari, octopus and anchovies from the takeaways. The magnificent Palazzo San Giorgio is on the left while on the right there's
Vico del Serriglio
and the
Maddalena Quarter
- areas where most people will advise you against visiting - especially if you don't look local - but who can resist the heavenly food at Trattoria
Vegia Zena
?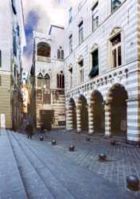 Feeling tired? No problem, just jump on a bus in
Piazza Caricamento
and you'll be back where you started in a matter of minutes. If, however, you've still got some energy to spare, we can walk back through new, uncharted streets. Let's take
Vico delle Compere
which cuts through
Piazza de Marini
and winds on until
Vico degli Indoratori
where we can sit with the cats and soak up the silence. The streets coil like a snake, soundless yet throbbing with life and energy, as we make our way up to
Piazza San Matteo
, once the headquarters of one of Genoa's most important families – the
Dorias
– who built their family chapel here in 1125. The church, built in the classical black and white Genoese style, was dedicated to Saint Matthew, the patron saint of tax collectors.
Look around, those galleries look familiar. We're back in Vico Falamonica which brings us to Piazza De Ferrari. And the circle closes . . . until the next trip begins.
>>back:
Italy through the eyes of the artists